Setting the Bar: Elemental Business Solutions LLC (Bahamas) officially launches with 2021 BluePrints & MasterMinds™ Virtual Conference
With a love for event planning, a desire for creating doors, tables, and spaces that prove resourceful, inspiring, and welcoming, Aisha Nesut Ani – the unknown dreamer from the Bahamas – envisioned a world-class event that would initiate and foster relationships and build bridges between continents, experts and next-generation novices.
As a native of a tiny island in the archipelago of the Bahamas, Aisha's first-hand experience of what it's like to be under-represented, under-funded, underserved, and underestimated are the catalysts for her creating the BluePrints & MasterMinds™ brand.
As the team copywriter, I took a moment to sit and chat with our Founder and Team Lead, Aisha Nesut Ani, to recap and really dive into the events leading up to the double launch of our parent company, Elemental Business Solutions LLC (Bahamas) and the baby brand BluePrints & MasterMinds™ with the first ever 2021 BluePrints & MasterMinds™ Virtual Conference.
This was a major undertaking for a young, start-up company launched at the on-set of a global pandemic. Yet it was important to our founder to stay true to her vision. And with the help of a local and globally remote team, we've set the bar for what our audience, stakeholders, and clients can expect from everything Elemental.
This conversation gets to the heart of the perfect combination of air, water, fire, and earth – the elements that inspire this fast-growing company. A company that continues to help me stretch past my comfort zones. Needless to say, there is a level of nervousness in ensuring that I convey the authenticity, passion, and even charm that our founder possesses.
We met on Google Meet for a short video call to discuss EBS and BPMM as we refer to them in-house. Normally I can expect to see Aisha in a button down, collar shirt with the Elemental logo proudly on display. But today she hopped on the video call in a gold silk robe, with her hair tied up with a purple cloth and wearing clear spectacles. We got right into the questions and responses.
LP: What is Elemental Business Solutions?
Aisha: Elemental Business Solutions LLC is a black woman owned and minority-led, powerhouse boutique consulting firm that works with new business owners and other department or project leads to help them create strategies and systems that facilitate growth with brand development and sales and marketing. So in other words, we partner with other entrepreneurs – primarily service-based businesses – and come in to help create strategic improvements that increase productivity and profitability.
LP: What's the ultimate vision behind Elemental Business Solutions?
Aisha: The ultimate vision is simple: EBS is here to help entrepreneurs grow businesses.
LP: What's the connection between Elemental Business Solutions LLC (EBS) and BluePrints & MasterMinds™ (BPMM)?
Aisha: BluePrints & MasterMinds™ is like an extension of Elemental Business Solutions. It's a brand of EBS (at this time pending trademark) created specifically to connect, nurture and support the next generation of creatives, entrepreneurs and innovators from around the world. Giving back is a priority for me and representation matters. BluePrints & MasterMinds™ is our way of creating bridges that foster relationships and create opportunities for education and empowerment for tomorrow's leaders. We are just getting started. I have so many things planned for BluePrints & MasterMinds™ in the future. It's crazy exciting!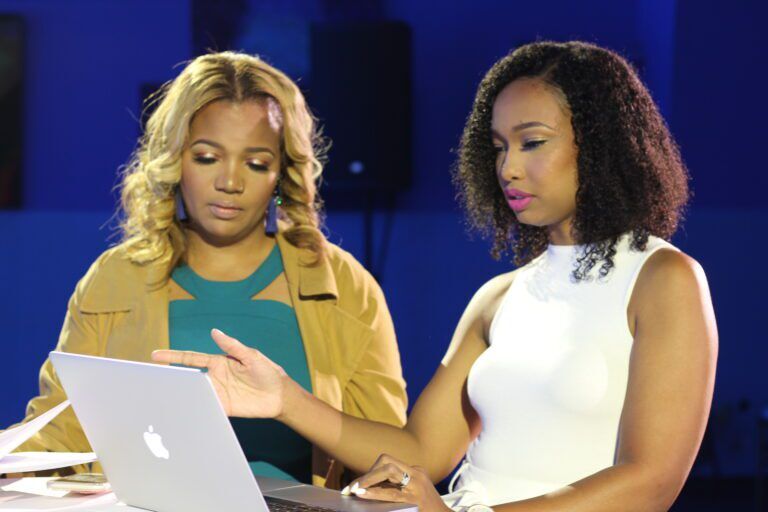 LP: So the BluePrints & MasterMinds™ Virtual Conference was just a teaser?
Aisha: Ha! Ha! Something like that. Honestly, I had a really big vision for this initial conference. It was devastating that it couldn't be an in-person event, because I thrive in producing live events; however, I knew I wanted to launch EBS with an event that would add priceless value to our audience.
There are so many entrepreneurs who have impacted my journey to date and I wanted to be able to share them with my clients, with our growing audience and with entrepreneurs, business owners and creatives around the world.
The 2021 launch conference for BluePrints & MasterMinds™ was definitely a taste of what's to come.
LP: How did you get the idea for the BluePrints & MasterMinds™ Conference?
Aisha: It goes back to my childhood. My mom was a dancer and she loved what she did. She would take me with her to events where she was performing. It always seemed like so much was happening, the rooms felt so alive! I still carry those vague memories of the Drum Beat Club and so many others with me.
It was only natural that I started my entrepreneurial journey in entertainment. Started as a model doing local runway shows. Eventually, I started planning my own events. In 2011, I hosted the first ever Viva La Bella Femminar (a showcase for women entrepreneurs) for my women's empowerment organization and fast forward ten years, in many ways, the work has evolved – but it continues. The BluePrints & MasterMinds™ Virtual Conference isn't a new idea. It's me doing what I love and trusting that in the process, it'll make the world of difference for someone.
LP: What inspired you to form Elemental Business Solutions? And why are these two Brands EBS & BPMM so important to you?
Aisha: Elemental came about in 2016 conceptually after I'd given birth to my last daughter in May of that year. Prior to that, I was serving my clients as a plant-based, vegan chef and spent a lot of time on my feet and in the kitchen. The business model I had was labor intensive and time consuming. And although I enjoyed it, I knew adjusting with a new baby would require major changes.
During my pregnancy, I brainstormed different ways I could make my existing business work. But what I didn't know was that I would be ushered into a new direction altogether. My first call came for me to work as a social media consultant a few months after my daughter was born. I got to negotiate the terms of my 6 month contract and in the end, I was working less hours per week (mostly remotely) and making more per hour than I had consistently up to that point. Then I got another offer to consult with another company under a 12 month contract, and again, I negotiated terms that provided me with flexibility, time and a solid income. This was now 2017 and I realized quickly that there were skills I'd developed over the years that were valuable to me as a freelancer. By the next year, I had decided that I was okay with pivoting from the health and wellness space, although my passion for the work still to this day exists. I was literally at a crossroads in my life and I decided to take the unknown, unpaved path. I was presented with a new, exciting possibility to work directly with business owners, entrepreneurs, solopreneurs and people like me, to help them build and grow their businesses.
I believe that entrepreneurship and ownership is the gateway to us as blacks, browns and other minority groups reclaiming our freedom. It's a tool to build generational wealth and change our entire socio-economic narrative.
I'm a first generation entrepreneur. It's important for me to show and teach the generations after me – my children, my nieces and nephews, cousins, my grandson – what is possible with commitment, dedication, resilience, persistence and hard work. I've been in this game for a long time. I started out as the starving entrepreneur, thinking I had it all figured out, but didn't know shit. I am where I am today because of what others have poured into me and what I've invested into myself.
With Elemental we get to help those entrepreneurs who don't know what they don't know. And BPMM we get to pour into the next generation of creatives and game changers. Both tools are needed. And we're here to be a part of the solutions that drive cultural shifts.
Oh! And by the way, I got the name Elemental from my children. I have four children, each representing a different element under their zodiac. My son, the Aries is fire; first daughter, Taurus is earth; second daughter, Cancer is water; and my baby girl represents that Gemini air that creates powerful transformations.
They inspired me in more ways than one to form Elemental Business Solutions.
LP: Wow! Was the company launch with the 2021 BluePrints & MasterMinds™ Virtual Conference everything you wanted it to be?
Aisha: It really was amazing! Phenomenal! It felt amazing seeing the vision come to life. We had a dynamic line up of master presenters that provided so so much valuable tactics and strategies to our audience. I felt humbled and proud to be hosting a launch event with some of the top entrepreneurs from the US, Bahamas and Caribbean. It's not everyday that Ronne Brown of Girl CEO, Jasmine Bowe of GOODR, Kirk Anthony Hamilton of Tech Beach Retreat, Vanessa James of Vanessa James Media and other powerhouse entrepreneurs show up in a space for free to just pour into you. Collectively, you would spend thousands of dollars to hear these masters of their industries speak. We brought them to you for free for a one-time special event.
We bit off a big chunk for our company launch and BPMM conference and it was worth it! We had over 400 registrants from around the world with attendees as far as Africa. We had amazing partners who aligned with the vision of the conference including Yahan Design, Dubsado and an incredible production team – one of the best in the Bahamas – The Movi Group.
We've initiated relationships and we've gotten nothing but positive feedback from attendees, participants and partners. Of course there were learning take-aways that will only make the next BPMM event even more memorable and I'm looking forward to it.
LP: Any special moment that you remember from the 2021 BluePrints & MasterMinds™ Virtual Conference?
Aisha: Every moment was special for me. I remember in the moment thinking this is it, this is what our team had been working on so diligently for months and months and finally the day was here.
Early on in the day I was locked out of my computer for like the first 2 or maybe even 3 hours of the conference. My first instinct was to panic, but I didn't. I didn't need to. The team held it down and the vibe was just "we got this".
What I think I valued most about the day was what happened once we were off cameras and wrapped up. We had a small studio audience, and I remember one of the attendees coming up to me at the end and saying how impressed she was with how the conference went and how the team worked so perfectly and smoothly throughout the conference. She shared with me it's something she doesn't see often and how proud I should be.
What I learned in that moment is that sometimes our impact comes in unexpected ways and oftentimes we underestimate ourselves – what we bring to the table. That was a moment I know will stay with me forever.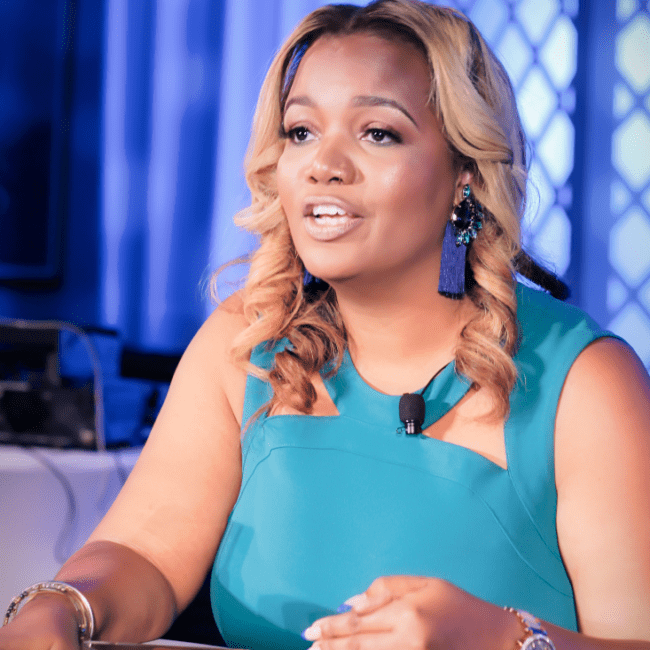 LP: Any plans for the next BluePrints & MasterMinds™ Conference?
Aisha: Yes! We are in planning mode. Right now we're looking at an in-person event for 2023. We'll be sharing more details soon. But before we get to that, we're also planning 1 or 2 smaller online workshops for BPMM that will focus on sales and conversions.
LP: What about EBS? How have things been progressing since launching last summer?
Aisha: The company's in its second year of formation and I like to say we're in our toddler stage of growth. We're maximizing the opportunities we have to work with limited clients as we simultaneously focus on establishing the fundamental systems that will sustain EBS for years to come.
We've just recently launched our online store which provides fun, practical gear for entrepreneurs and we're working on more digital products that can help business owners, solopreneurs and creatives as they work on growing their brands. Of course we're also accepting more and more clients who want hands-on help with building out their businesses – whether that's the brand itself, the service offering or sales and marketing.
Just as our mantra with our clients is PACE yourself with Elemental, we are doing the same.
LP: What are ways readers can get connected with EBS or BluePrints & MasterMinds™?
Aisha: Readers can connect with us through social media, we are @elementalglobal on Instagram, Facebook & LinkedIn and for BPMM, it's @blueprintsandmasterminds. I would also suggest subscribing to our email list to become an Elemental Insider. There's so much goodies we're sharing with our Insider Tribe so for sure get connected with us.
To work with us, book an online consultation or check out our website for ways to get started with us.
LP: What can a future client expect if he/she chooses to work with EBS?
Aisha: Understanding your unique challenges, goals or objectives is always going to be the first priority. Once we've identified how or even if we can help you, as another one of our mantras goes "our people are your people", we then get to work. We look at our clients as family, so we keep it real with expectations and deliveries. We also hold you accountable to your goals and objectives.
I believe in going above and beyond to meet the needs of our clients within the framework of our contract. Afterall, we are driven by results, so when the dust settles our success is driven by our clients' success and our goal is for us all to win.
LP: The Bar has been Set. Is there anything exciting you want to share about Elemental Business Solutions LLC (EBS) or BluePrints & MasterMinds™ (BPMM) before we wrap?
Aisha: Get familiar with the names. We aren't here to play or stay small. We have the tall feat of helping over 2000 entrepreneurs grow 6 and 7 figure companies by 2034.
So right now it's all about process and putting in the work, and allowing time to help us create an unimaginable story. Everything is exciting! Get locked in and join us for this multi-million dollar ride.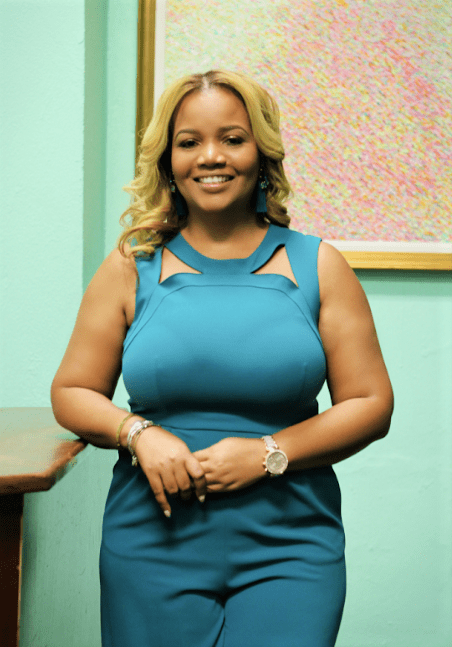 And what a way to wrap up my call with Aisha! She was beaming and smiling from ear to ear. I couldn't help but feel a sense of anticipation for what's to come. As a member of the team, I'm thankful I was able to have this conversation about what is undoubtedly a pivotal moment for EBS & BPMM. I now feel more connected to some of the elements that fuels our company's core values, commitments, and vision as a brand.
I hope this dialogue has given you an insider perspective into some of our founder's story and how we've arrived at this summit, which is the footstool for both Elemental Business Solutions LLC and BluePrints & MasterMinds™.
– Lovepreet S., EBS MCC
BTW: We would love to stay connected with you on Facebook or Instagram, so give us a follow. If you're not into the social media thing, sign up to become an Elemental Insider. Join our email list here.